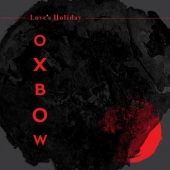 Oxbow
Love's Holiday
Label: Ipecac
Genre: Rock / Pop
Availability
CD Digi / Cardboard €18.99

Dispatched within 5-10 working days
"I've always been chagrined that no one understood that our songs were love songs," says Oxbow vocalist and lyricist Eugene Robinson, while reflecting on the band's output from the last 35 years. Love may not have been the most obvious muse in their earlier work, but the subject has never been more apparent than on their eighth studio album, and first new music in six years, 'Love's Holiday'. "But now listening to a record of exclusively love songs I can see how no one saw that," Robinson admits. "My problem is how I think about love as this affects how I feel about it, instead of the other way around."

The band again worked with Grammy-winning engineer and co-producer Joe Chiccarelli (White Stripes, My Morning Jacket). 'Love's Holiday' is the third Oxbow album recorded with Chiccarelli, and the band members uniformly state that their trust in him allowed the album to venture into even more inviting directions, featuring guest appearances from Roger Joseph Manning Jr. (Jellyfish), Lingua Ignota, a choir and a string quartet.

Artwork by Aaron Turner (Isis, Sumac).