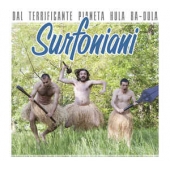 Surfoniani
Surfoniani
Label: Surf Cookie
Genre: Rock / Pop
Availability
CD Digi / Cardboard €9.99

In Stock
The Surfoniani are a surf music trio, devoted to the most reverberated sonorities of the Sixties. They came from Turin (Italy): Giamba on the guitar, Fra on the upright bass and Tony on the drums.
They were born in 2005 from the former punk rock band Funny Extasy that animated the night in Turin in the past years. In 2008 Matteo replaced Hermann and The Surfoniani played at the "Surfer Joe Summer Festival" and again in 2010, when they also opened the Los Straitjackets concert in Alessandria. The autumn of the same year, Herman came back and with him on the drums they played once again at the "Surfer Joe" fest opening the concert for another great band: Tito & Tarantula.
At the beginning of 2014 Tony, bass player in the bands Ponches and Kelvins, two great bands of the Turin punk rock scene, took his place on the drums. With him, the number of live concerts increased and they consolidated their musical richness, distinguished by the drums and double bass strong rhythm section where Giamba's wild guitar find its perfect place.
The Surfoniani also have an acoustic project called "Street Version" that gives them the chance to play in any situation using portable amplifiers and a minimal drums with great sound results that recall the Polynesian atmosphere. Besides participating in the already mentioned events, The Surfoniani played in many concerts in Piedmont, Lombardy and Liguria. At the end of 2015, the band walked into the studio and recorded the tracks since then just played in live. The first record, produced by The Surfoniani and distributed by Surf Cookie Records, will be published in June, just in time to be the 2016 summer soundtrack!