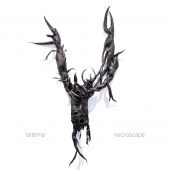 Tetema
Necroscape
Label: Ipecac
Genre: Post Rock / Avant Rock
Availability
CD Digi / Cardboard €17.99

Dispatched within 5-10 working days
Other Formats
The sophomore release from Mike Patton (Faith No More, Mr. Bungle) and Australian composer Anthony Pateras.

'necroscape' synthesizes a lot of territory: odd-time rock, musique concrète, otherworld grooves, soul, industrial noise, microtonal psychoacoustics... seemingly strange bedfellows on paper, yet in the ears they surprisingly coalesce into 13 songs which playfully challenge our notions of sonic logic and make you move at the same time.

Five years in the making, 'necroscape' mushroomed organically from Pateras' production based on tape loops, analogue synthesis and rarified keyboard instruments in combination with Patton's dense vocal arrangements, Erkki Veltheim's exploratory violins and drummer Will Guthrie's unique percussive strategies. The result is a handmade, kaleidoscopic tour-de-force which re-imagines songwriting as something other.

Packaging features noted artist Talitha Kennedy's sculpture work, packaged in super gloss digipak (CD) and embossed extra glossy gatefold sleeve (white vinyl).

The track 'Funerale' is a cover of the Ennio Morricone classic.