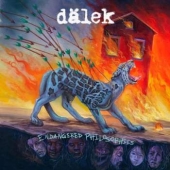 Dalek
Endangered Philosophies
Label: Ipecac
Genre: Hip-Hop
Availability
LP x2 €31.99

Dispatched within 5-10 working days
Other Formats
Dälek return to Ipecac for their new album, 'Endangered Philosophies'.
Dälek, who have been "mixing the searing political rhetoric of Public Enemy, the suffocating shoegaze textures of My Bloody Valentine and the primal appeal of squealing industrial noise" (Rolling Stone) for over 18 years, present their fifth Ipecac release and seventh album overall.
"Before Def Jux, before Death Grips, before Yeezus, there was Dälek" - Noisey
Pioneers of alt hip-hop, Dälek features rapper / producer MC Dälek, producer / live electronics Mike Manteca and turntablist DJ rEk. With roots in the mid- 90s DIY scene, Dälek have consistently released groundbreaking albums, starting with their 1998 debut EP, 'Negro Necro Nekros', to 2016's 'Asphalt For Eden', hailed by Pitchfork for its subtlety and restraint, saying "on 'Asphalt For Eden', hip hop ascends into the noosphere."
The band have just completed a two month Spring / Summer Euro tour that included Roadburn and Dude Fest. More European touring in the Autumn.
Features guest guitars from Metz.