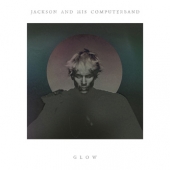 Jackson And His Computer Band
Glow
Label: Warp
Genre: Electronica / Ambient / Experimental
Availability
CD Digi / Cardboard €6.99 Nice Price

In Stock
'First Print' edition, featuring a silver foil cover. First Print CDs have a gold disc.

"'Glow' is a game of musical obsessions and rageous pleasures. I've made it driven by feverish moments of revelation and sharing them with my friends" - Jackson Fourgeaud

Eights years since the critical acclaim of his first album, Jackson And His Computer Band finally returns with a new masterpiece, 'Glow'.

Teaming up with amazing engineers like Phillipe Zdar and vocal collaborators like Planningtorock, the Parisian producer has expanded his sound to higher scopes.