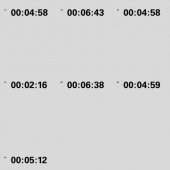 Cipa Carlos / Brugger Martin / Popp Simon
Runden
Label: Squama
Genre: Electronica / Ambient / Experimental
Availability
LP €18.99

Dispatched within 5-10 working days
Runden is a collaboration by Martin Brugger (bass) and Simon Popp (drums), both of contemporary Jazz quintet Fazer, and neo-classical pianist Carlos Cipa. Their debut LP is a conceptual record reflecting on Minimal Music, Afrobeat, and Dub Techno of the late 90s/early 2000s.

While Cipa's solo works build on clear harmonies, for the recordings of Runden he prepared the piano to make it sound like a faintly tonal percussion instrument and his mechanical patterns contrast the syncopated drum grooves of Popp and the deep and sparse basslines of Brugger.

The musicians explore, over the course of seven tracks, the concept of circular music. Each piece is based on a four-bar-motif played in a loop and varied subtly but steadily over time, creating a sense of eternal recurrence and timelessness.

This makes Runden a meditative but demanding record, that only grows with every listen.