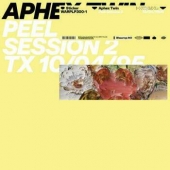 Aphex Twin
Peel Session 2
Label: Warp
Genre: Electronica / Ambient / Experimental
Availability
MLP + MP3 COUPON €20.99

Dispatched within 5-10 working days
- Specs 12" vinyl in full colour printed inner sleeve, 5 colour 3mm spine outer sleeve with spot gloss varnish

Aphex Twin Peel Session 2 TX: 10/04/95
One of only two radio sessions Aphex Twin has ever recorded. This Peel Session comprised of all original material at the time. Presented as a complete session and on vinyl for the first time.