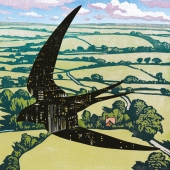 Bibio
Sleep On The Wing
Label: Warp
Genre: Electronica / Ambient / Experimental
Availability
LP + MP3 COUPON €22.99

Dispatched within 5-10 working days
Bibio returns, just over a year on from his latest album Ribbons, with a new ten track EP titled Sleep On The Wing due for release on June 12th on Warp Records. The release follows a pattern Bibio has established in his work; releasing a follow up EP after an album exploring similar sonic ground. This release draws on a familiar range of influences from traditional folk, peaceful atmospheric soundscapes and field recordings from the natural world. Stephen Wilkinson (Bibio) once again demonstrates the breadth of his musicality, embracing a wide range of self-played instruments including the strings which gave Ribbons much of its flavour and features some new accouplements for good measure.

Pieced together over the course of last year, with a few exceptions stretching back into Bibio's older repertoire, the Sleep On The Wing EP is a largely instrumental collection that exhibits deep atmospheric melodies as observations on rural escapism, reflection and melancholia. Recorded in Bibio's home studio in the UK midlands countryside, the writing process for this latest EP starts in a similar place to most of his previous works, growing from a guitar riff into a richly textured soundscape one instrument at a time.

The sleeve artwork by notable illustrator Chris Wormell was developed by Bibio and Chris and lino-printed by Chris. Speaking about how the artwork happened, he explains: "It was an idea that came into my mind when thinking about the title. The bird - a swift - is a bird that apparently can sleep during flight and spends more of its life in flight than any other bird. It really is a creature of the air, the skies are its habitat. I wanted to have artwork that sees the world from the swift's perspective. It was important to me that the landscape looked typically British, because the British rural landscape has been a never ending source of wonder for me, and the feeling that I try to induce in some of my music very much comes from this desire to really be at the heart of its unique qualities."

As on Ribbons, the surrounding nature seeps into the studio and underlies the essence of his music as it unfurls. This new work offers an in-depth study into the instrumentation and feelings surrounding this past year, imbued with revisited works which seem as poignant as they did when they were first composed over a decade ago.