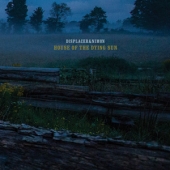 Displacer & Nimon
House Of The Dying Sun
Label: Hymen
Genre: Electronica / Ambient / Experimental
Availability
CD Digi / Cardboard €14.49

Dispatched within 5-10 working days
michael morton a.k.a. displacer has made a name for himself over the last ten years as a quality electronic composer and visual artist. his last album 'foundation' on hymen records featured a number of guest artists, of which keef baker was one. both musicians expanded upon the success of this to
create a full collaboration between both displacer and keef's project nimon which is based on the use of digitally manipulated electric guitars and has
received enthusiastic reactions for his debut release 'drowning in good intentions'. the fusion of both projects and the respective dna of these two
highly skilled performers is what you are about to listen to on 'house of the dying sun'.
on this album a range of ingredients melt together to form a fascinating sonic pallette: solid, interlaced patches of percussion and elaborate basslines build the foundation for epic layers of deep ambience, swimming with deep walls of elegiac electrified strings warped from guitars and perfected with the addition of live double bass, electric organ and even disturbing bits of noise. the sound spectrum ranges from ruminant kraut rock influences to spherical downtempo patterns and contemporary intelligent dance music forming an aural landscape of different emotions.
with this release displacer and nimon are crossing boundaries while observing their very own standard, presenting a warm, relaxing opus with embedded waves of mild turbulence. highly recommended.