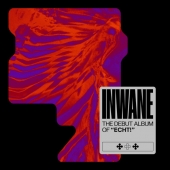 Echt
Inwane
Label: Sdban Ultra
Genre: Electronica / Ambient / Experimental
Availability
LP €21.99

Dispatched within 5-10 working days
ECHT! – an instrumental, futuristic four-piece inspired by the concepts absorbed in electronic music and musical production. Taking inspiration from artists including Jonwayne, DJ Rashad, Deantoni Parks, J Dilla, Dorian Concept and Aphex Twin, ECHT! combine electro, hip-hop, trap, funk and futuristic jazz, resulting in a distinct and unique sound.

Releasing their debut EP 'DOUF' in 2019, the Brussels quartet has not stopped working, recently releasing three sublime live studio sessions titled the BREWmixes which received support from tastemakers including LEFTO, Worldwide FM and Belgian national radio station Studio Brussel (StuBru).

Echt means 'vrai de vrai' - 'true' or 'real' in brusseleir (Brabantian dialect of Brussels). The name is a direct reference to the fact that their sound transmission is 'real', performed with conventional musical instruments as oppose to computer music which the production might suggest. It also relates to the fact that none of the members of the band are originally from Brussels – bassist Federico Pecoraro is from Italy, keyboardist Dorian Dumont is from France and drummer Martin Méreau and guitarist Florent Jeunieaux are both from the Mons region on Belgium.

"For our first album, we wanted to go into deeper beats. We were listening a lot to trap, gritty hip-hop & bass music, and we tried to emulate those kinds of beats on our instruments. The darkish mood of those music genres was fitting for us with this strangest year of 2020. But we also wanted to give a contrast with some brighter parts, where the human feeling is more present. This duality continued in the mixing process by pushing or destroying some sounds, adding electronic textures & effects, but also keeping some sounds really acoustic & organic. The result is for us a mature album: the feeling of electronic music emulated on instruments is confirmed but the human vibe stays central."

From the abstract patterns of 'Permanent' and melodic atmospherics of 'Dunes' to the futuristic funk of 'Charlier', ECHT! look to emulate the producer's off-beats, the compressor's swell, the repeating samples or the DJ's transitions. Elsewhere, the trap-heavy sounds of '500gr.' and subby bass stylings of 'Champi' push things forward, before the scatter rhythms of 'Kiekebiche' and weighty rumblings of 'Drache' integrate the inhuman heritage of electronic music and 're-humanise' it.

Counting BBC Radio 6 Music's Gilles Peterson as a fan, in 2020, ECHT! were voted the third best band at the RedBull Elektropedia Awards under the 'Fresh On the Scene' catergory with debut EP 'DOUF' also receiving a nomination for 'Best EP'.

ECHT! are Martin Méreau: drums, Dorian Dumont: keys, Florent Jeunieaux: guitar, Federico Pecoraro: bass.