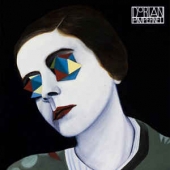 Dorian Pimpernel
Allombon
Label: Born Bad
Genre: Rock / Pop
Availability
LP €17.49

Dispatched within 1-4 working days
Words and music by Johan Girard.

Jérémie Orsel : vocals, guitars. Johan Girard: keyboards (rhodes, wurlitzer piano, vox continental, rocksichord), analogue, wavetable and frequency modulation synthesisers, variophon, persephone, bass guitar, occasional vocals. Laurent Talon : bass guitar. Benjamin Esdraffo : keyboards. Hadrien Grange : drums and percussion.

Backing vocals on "Coodooce Melopoia" and "Alephant" by Julien Gasc.
Backing vocals on "Alfalfa" by Mehdi Zannad.
Flute on "Teorema" by Khai Dao.

Recorded at Solaris Studio. Produced by Johan Girard, Hadrien Grange and Angy Laperdrix. Drums recorded at Hit N'Run by Angy Laperdrix and Aan Lampinen Studio by Khai Dao and Hadrien Grange. Final mix and production by Angy Laperdrix at Pixel Room Studio. Mastering by Jeremy Henry at La Villa Mastering.