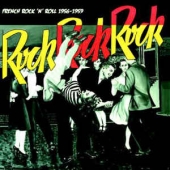 Various Artists
Rock Rock Rock - French Rock N Roll 1956-1959
Label: Born Bad
Genre: 60s / 70s Rock / Pop / Progressive / Kraut
Availability
LP €17.49

Dispatched within 1-4 working days
Astonishing that such a period is so little documented. Certainly, the genesis of rock and roll in France has turned very blazing and it will be necessary to wait for the late arrival at the beginning of the 60s of the Johnny, Black Socks and other Wild Cats for the Rock and roll to really take off. Nevertheless, as early as 1956, many jazz orchestras multiplied their attempts to impose the genre in France. Under their leadership, the French Rock And Roll of the 50's will be remarkable in many ways: unpublished with its unusual orchestrations (accordion, clarinet, saxophone, xylophone), impressive because of the quality of its arrangements, or surprisingly its offbeat interpreters (regional accent, delusional devo stamp).

With a near-absence of record imports from the United States at the time, it was during the year 1956, through the film Seed of Violence by Richard Brooks (Blackboard Jungle), that the European teenagers discover the Rock And Roll. In addition to a sultry story of juvenile delinquent students who heat the Teenagers, this film unveils the song Rock Around The Clock by Bill Haley and his Comets, and the eternal guitar solo by Dany Cedrone. First confrontation of the French youth to the phenomenon Rock And Roll. First flash, and instant success ...

Blues and Country, yet the origin of the American Rock And Roll, will have little impact on this French music production of the 50s. Because it is by the Jazz that the Rock And Roll will find a echo in France, and first in Paris. The Cellar Rats of Saint-Germain-des-Près, familiar with Be-Bop and Boogie, will immediately embrace and appropriate this new dance called Rock And Roll.

Thus, many jazz orchestras on the lookout for a good shot will not be wrong by multiplying the covers and adaptations of Rock Around The Clock. The first to record this
title (in French Every hour that sounds) and to boast later to have been "the pioneers of Rock in France" will be Albert Raisner and his Trio d'Harmonica, and the orchestra Jacques Helian . But the first to sing a success Rock And Roll well before all this beautiful world was undoubtedly Line Renaud with Tweelde Dee Lavern Baker late 1955.

These ambient orchestras, which will also tackle several American rock standards, will however content with sloppy texts, lukewarm orchestrations and without panache, for adaptations often rough, hoping to make some easy sales. With a few exceptions such as the George Richard records or Alix Combelle for example.