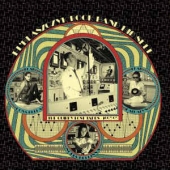 El' Blaszczyk Rock Band Himself
The Quirky Lost Tapes 1993-95
Label: Born Bad
Genre: Rock / Pop
Availability
LP €17.49

Dispatched within 1-4 working days
Untraceable tapes, unlikely tapes ...

"I remember very well at the end of the 90s when I discovered EL'BLASZCZYK's 45T" With Girls ", a self-produced vinyl that he doled out. This record did not look like anything else I already knew. Immediately, I loved this singular and wobbly universe. Be it the improbable themes of the songs (the disease, Tapfex, James Bond, etc ...), the vaguely garage uninhibited music, the tape recording of the pieces, in his room with his little sister of 13 years and neighborhood neighbor , teenage girls. Everything, absolutely everything I liked. I was jubilant with each listening and I immediately said that if I had made music that's exactly what I would have liked to do: A music that is fun, playful and casual, music that does not would not take seriously under the pretext of being different.

I was trying to find out more, but a mystery surrounded EL'BLASZCZYK:

Rochelais of origin, he had evolved briefly in the Parisian garage scene and had disappeared, overnight, in the mid-90s. Even his close friends did not know where he was and the wildest rumors (proving to be false besides ...) ran about him. All this was obviously my curiosity and when I launched the label in 2006, I did not see well or I was going but I already knew that I will try to find him to propose to do something together.

I took years to track it. Then, once finally found in his maquis, I have new years to convince him. I regularly sent him my outings in the hope of making him want. The years passed, and I had the idea that it was futile. So when, in 2015, EL'BLASZCZYK came back to me telling me that he had a little time and that he wanted to release his many unreleased of the time at BORN BAD, this is one of my dreams of "boss" of label that was fulfilled ".