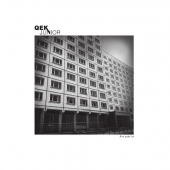 Qek Junior
Anomie
Label: Young And Cold Records
Genre: Electro / Electro-Rock
German minimal wave with a cynical approach.
Ten years after the release of their latest album "Druschba", and 12 after their amazing debut 'Ausverkauf' (Danse Macabre, 2009), the German minimal-wavers QEK Junior issue an all
New album: "Anomie". Still synthetic as hell, minimal and danceable – but now with much clearer statements and cynical lyrics! A highly welcome comeback for this German Minimal duo!

White vinyl.