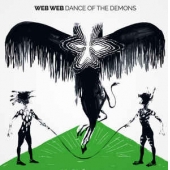 Web Web
Dance Of The Demons
Label: Compost
Genre: Jazz / Avant Garde
Availability
CD Digi / Cardboard €15.99

Dispatched within 5-10 working days
After their sensational debut LP "Oracle" last year (2017) , the German jazz - supergroup Web Web successive with an amazing new album. "Dance Of The Demons" is a furious dance with the demons – from positive spirit soul jazz "Land Of The Arum Flower", while the melody reminding to Ethopian Jazz of the Sixties, to the mad, outstanding "Sandia", or beautiful weird "Safar". WEB WEB have had an intense year, they've played dozens of live concerts, where they proved their professionalism, closeness, power and spirituality once more.

As a nice but ideal step, Web Web could thrill the well-known singer and Gembri-player Majid Bekkas from Rabat, Morocco, who joined the group into the studio. Tony Lakatos was working with Majid and Joachim Kühn in the last years, also Roberto Di Gioia played with Majid and Klaus Doldinger. This brilliant musician with his north-african roots enriches the rough and bluntly concept of Web Web jazz. In "Maroc Blues", a solo performance by Majid Bekkas, you can hear the warm vibrant Gembri, an instrument like an upright.bass or lute with three strings. Majid's marvelous voice, which, reflecting the centuries-old tradition of the Berber tribes, perfectly underpins the great improvisation and spirituality of Web Web.

Majid Bekkas is one of the most famous musician and representative of Gnawa-Music, which has its domicile in the south of Sahara. Majid Bekkas studied at the Conservatory For Music & Dance in Rabat, while playing since 1975 classical acoustic guitar and oud. For example, he played with Archie Shepp, Louis Sclavis, Peter Brötzmann, Hamid Drake and lot of others in the world of jazz and world music.

"Dance Of The Demons" (as well as the debut "Oracle") was recorded live in Munich, engineered by Jan Krause (Beanfield, Poets Of Rhythm), produced by Roberto Di Gioia and Michael Reinboth. The next, third Web Web album recording session are already scheduled for November 2018 with an outstanding famous guest musician, too.

Web Web are: Roberto Di Gioia (Piano, Synth, Percussion), Tony Lakatos (Tenor- und Sopranosaxophone), Christian von Kaphengst (Upright Bass) und Peter Gall (Drums).