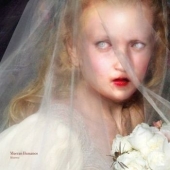 Mueran Humanos
Miseress
Label: Atp
Genre: Electro / Electro-Rock
Mueran Humanos are the Argentinian (but Berlin based) duo of Carmen Burguess and Tomás Nochteff. 'Miseress' is their second album and continues the post punk and industrial inflected synth explorations that were first introduced on their 2011 self-titled debut album.
Burguess and Nochteff share the vocal duties, all sung in their native Spanish but with an emotiveness that transcends any language barriers. Recorded at their studio in Berlin, and mixed at Einsturzende Neubauten's studio andereBaustelle by engineer Boris Wilsdorf, 'Miseress' bounds between the foreboding and the abstract to more frenetic sounding pop. Each song is treated as a separate entity, allowing the record to come together as a whole organically.
Mueran Humanos encourage listeners to understand 'Miseress' as you might a thunderstorm: natural and inevitable, it moves seamlessly from beautiful to scary, sad to ecstatic, sliced with points of rage but also flecked with calming lulls.
For fans of Einsturzende Neubaten, Silver Apples, Coil, D.A.F.