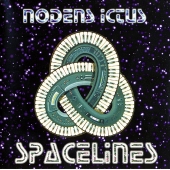 Nodens Ictus
Spacelines
Label: K Scope
Genre: Electronica / Ambient / Experimental
Availability
LP x2 €35.99

Dispatched within 5-10 working days
Nodens Ictus began life in 1986 when Ozric Tentacles guitarist Ed Wynne and keyboardist Joie Hinton were asked by the promoters of the Crypt club in Deptford, South London, to produce an ambient set for the club's "chillout" room. Nodens Ictus explores ethereal, Tangerine Dream-like soundscapes using synths and samples, in contrast to the driving spacerock which characterised the sound of their parent band. Existing as a side-project only, Nodens Ictus played semi-frequently throughout the late '80's & early '90's, often as a support act at Ozric shows. The band occasionally ventured into electronica/dance territory following the addition of Ozric drummer Merv Pepler to the line-up, until being put on the back burner for nearly a decade until they resurfaced in 2000 with the release of Spacelines, a collection of old & new studio tracks along with a handful of live cuts dating back as far as 1988.

As the number of Ozric Tentacles and Eat Static fans grows on a global basis, so too does the demand for the release of long-deleted and hard-to-find Nodens Ictus recordings. This much sought-after collection of blissful ambience from the rare first 2 cassette-only Nodens Ictus albums, plus live recordings and two new tracks for the original project, is now re-issued on Kscope.

First time on vinyl.