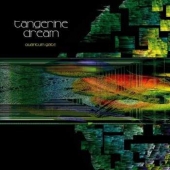 Tangerine Dream
Quantum Gate
Label: K Scope
Genre: Electronica / Ambient / Experimental
Availability
CD Digi / Cardboard €14.49

Dispatched within 5-10 working days
The new album celebrating 50 years of Tangerine Dream. Edgar Froese's updated vision for the seminal Electronica group.
This version of Quantum Gate will be released as a double LP on 180g heavyweight audiophile vinyl presented in a gatefold packaging.
Tangerine Dream have been a fundamental influence on electronic and pro­gressive music since their formation in West Berlin, 1967. Inspiring genres, mu­sicians and other art forms, from The Future Sound of London to Porcupine Tree, the widely popular TV show Stranger Things (for which their music also featured in) to seminal video game Grand Theft Auto V (for which they helped to write the soundtrack).
The group have also received seven Grammy nominations, written over 100 studio albums and were led by Edgar Froese, who developed an instantly recognisable synth-based instrumental music based on a meditative musical experience that came to prominence in the 70's and 80's.
'Quantum Gate' promises an updated, contemporary development of their trademark sound: sequencer-driven electronica covering a wide range of moods and atmospheres from ambient soundscapes to energetic, upbeat moments. The album began as a concept and series of musical sketches by Froese before he passed away in 2015. Remaining band members Thorsten Quaeschning, Ulrich Schnauss and Hoshiko Yamane worked together to realize Edgar's visions and expectations of a conceptual album that attempts to translate quantum physics and philosophy into music. New member Ulrich Schnauss comments: "at the moment hardly any other area of science ques­tions our concept of reality (linearity of time etc.) as profoundly as research in Quantum physics - it's no surprise therefore that Edgar was drawn to these ideas since he had always aimed at reminding listeners of the existence of 'un­opened doors'."
Tracks:
Sensing Elements / Roll The Seven Twice / Identity Proven Matrix / Tear Down The Grey Skies / Proton Bonfire / When Everyone Is Dancing, It Is Time To Leave / Non-Locality Destination / Genesis Of Precious Thoughts / Granular Blankets