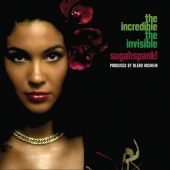 Sugahspank!
The Incredible The Invisible
Label: Green Cookie
Genre: Freestyle / Nu Jazz / Funk / Afro
All Vocals & Lyrics: Sugahspank!
All Music: Sugahspank!/Blend Mishkin
Guitars on #4: Jason Leontidis
Guitars on #8, 12, 13: Kostas Nikolopoulos of The Charms
Bass on #4, 13: Kostis Vichos
Electric Piano on #13: Yiannis Dimitriadis of The Happy Dog Project
Human Beatbox on #5, 12: Bitman of Word Of Mouth
Arranged and Produced by Blend Mishkin
Mastered by Yiannis Stergiou at Reaction Studios
All songs published by Ankh Productions / Ankh Music & Entertainment
Photos by Nikos Nikolopoulos
Cover Design by William Triantafyllou
Originally released as CAB104 Cast-A-Blast 2008

First time on vinyl!