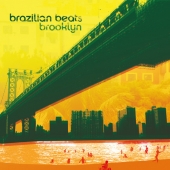 Various Artists
Brazilian Beats Brooklyn
Label: Mr Bongo
Genre: Freestyle / Nu Jazz / Funk / Afro
Availability
LP x2 €29.99

Dispatched within 5-10 working days
Compiled by Sean Marquand and Greg Caz, 2 DJs well-known for their epic parties at Williamsburg's legendary Black Betty club, that sadly closed in 2009. The duo played a deep variety of strictly vintage samba, samba-rock, Tropicalia, and Brazilian funk under the banner of 'Brazilian Beats Brooklyn'.

Sean is known as half of Embassy Sound Productions. He took his team to Brazil to help resurrect Black Rio legends Uniao Black for a new release. Greg has DJ'd at some of the hottest Brazilian parties around the globe and presents a monthly radio show 'Warm Wave' on Soho Radio NYC.

Featuring Noriel Vilela's singular "16 Toneladas," a sublime cover of the Tennessee Ernie Ford smash "16 Tons" with a spare samba groove and unbelievable baritone vocals and hot jams from Tim Maia, Erasmo Carlos, Joao Bosco, Toni Tornado.

Included in this compilation of original 60's and 70's Brazilian gems are some of Greg and Sean's favourite tracks that have been filling dancefloors for years.