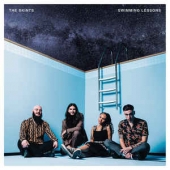 Skints
Swimming Lessons
Label: Mr Bongo
Genre: Freestyle / Nu Jazz / Funk / Afro
Availability
LP €24.99

Dispatched within 5-10 working days
'Swimming Lessons' is the full-length follow-up to The Skints critically acclaimed and fan-adored last release, 'FM' (2015). It features a thrilling mix of styles, as well as guest appearances by Grammy-nominated artist Protoje, Jesse Royal, and Runkus.

The Skints, have clawed their way up from the depths of the underground punk/ska scene to become a unique fixture on the global reggae stage.

Drawing influences as wide as soul, pop, grime, and hardcore, their original brand of "tropical punk" has seen them evolve in to one of the hardest working and most respected bands in UK music.

Produced by The Skints in collaboration with Mike "Prince Fatty" Pelanconi, Ben Lamdin, Jack Longman and Pete Miles.