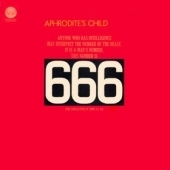 Aphrodite's Child
666
Label: Private Press
Genre: 60s / 70s Rock / Pop / Progressive / Kraut
Availability
LP x2 €32.99

Out of Stock
Remastered 1975 Greek version with edited tracks!!
One of the best European progressive albums of the 70s
Originally released on VERTIGO in 1972
Featuring VANGELIS PAPATHANASSIOU and DEMIS ROUSSOS

Aphrodite's Child was Vangelis' (Papathanassiou) and Demis Roussos' first step to international fame. They have recorded 3 albums between 1969 and 1972 full of excellent pop, psychedelic and/or progressive rock tracks. This is their magnum opus, their third and last album, which sold more than 20 million copies worldwide. It is considered to be among the best and most original European albums of the 70s.