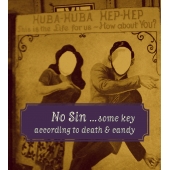 No Sin
... Some Key According To Death & Candy
Label: Private Press
Genre: Rock / Pop
Availability
CD €4.99 Nice Price

In Stock
Captain Beefheart's guitarist Moris Tepper said about the No Sin (officially founded in 2003) that they "rock like motherfuckers".

Maybe he didn't know what he was talking about. Sky Saxon wanted to adopt them. Too much bureaucracy there...

Well, on the surface they are just a 4-piece urgent garage punk-rock band all about love and war, with a blue vein and a sixties aftertaste.

They can make you think or smile, they can make you cry out, but can they send you dancing?

"So much global warming and the world still ain't that hot".

SOME KEY ACCORDING TO DEATH AND CANDY (released in January 2009) is their second album

after THE DRUG CALLED FUTURE (2006) and the first to be cut in more than 99 copies.