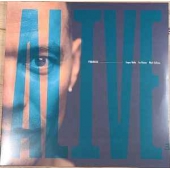 Phronesis
Alive
Label: Edition Records
Genre: Jazz / Avant Garde
Availability
Other Formats
Over the last two decades, Phronesis forged a reputation for spell-binding live performances, capturing the imaginations of audiences worldwide. Years of performing, touring and recording gave this trio a matchless rapport that inspired an ever-flowing stream of pioneering new music.

The group's first album on Edition Records and their first live recording, it was 'Alive' that truly catapulted the trio onto the international stage. Flawless in execution, and driven by some of the most infectious and compelling music written in recent years, this extraordinary recording became one of the most talked-about live piano trio releases. It was awarded Album of the Year in 2010 by both Mojo and Jazzwise and was voted Jazzwise Magazine' No.1 Jazz Album of the last 5 years in 2015. It won endless plaudits and praise for its irresistible excitement, skillful flair and expansive compositional craft, and prompted extensive international touring across the world.

At the centre of the band's sound was bassist and founder Jasper Høiby, the charismatic and dynamic player and composer, and a musician who has been central in shaping the story of Edition Records as a label. On 'Alive,' Jasper is joined by Ivo Neame on keys and Mark Guiliana on drums, standing in for Anton Eger on this one-off live recording.

To celebrate over a decade since the album first dropped, 'Alive' will be released on vinyl for the first time ever with brand new artwork and liner notes specially written by Jasper.