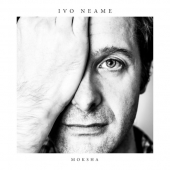 Neame Ivo
Moksha
Label: Edition Records
Genre: Jazz / Avant Garde
Availability
LP + MP3 COUPON €24.99

In Stock
Other Formats
Moksha is the vibrant and progressive new album from pianist Ivo Neame.

An innately gifted pianist, composer and bandleader, Ivo Neame has demonstrated over the last decade that he is a musician of world-class quality with a powerful spirit of adventure and exploration. He is by any measure an original and a risk-taker. With Moksha, he returns to Edition Records with an album that will define a new era for him in his already illustrious career. With a new band, a greater use of electronic keyboards and an edgier rhythmical groove and band interplay, Neame has produced his most remarkable and boldest musical statement to date.

Moksha draws on more than 10 years of extensive touring, writing and musical discovery, revealing Ivo's true brilliance and status as a world-class performer, bandleader and composer. Every note counts. This is an album that's honest and perfectly crafted. Reminiscent of the subtle and shimmering grooves we have come to expect from the likes of Medeski, Martin and Wood, Moksha is driven by multi-layered rhythmic textures and grooves and brilliantly fluid lines animated by Ivo's own exploratory voice.

Taking its title from Hindu philosophy, the Sanskrit Moksha refers to emancipation from the cycle of death and rebirth – to ultimate freedom from earthbound cares and ignorance leading to self-realization and self-knowledge – a form of release recognisable in great music too.

Ivo's own music has been somewhat in the shade of his other successful and better known projects. Moksha allows him to step into the full sun with a bright and beautiful new work. Ivo's sound is contemporary and modern and undeniably his. With Moksha, he has produced an album of sheer brilliance and class.