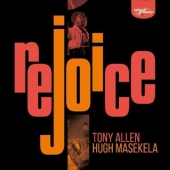 Allen Tony & Masekela Hugh
Rejoice - Special Edition
Label: World Circuit
Genre: Freestyle / Nu Jazz / Funk / Afro
Availability
LP x2 180gr €28.99

Dispatched within 5-10 working days
Rejoice is the classic collaboration between Tony Allen, the legendary drummer and co-founder of Afrobeat, and Hugh Masekela, the master trumpet player of South African jazz. The record, released to great acclaim in March 2020, became the first posthumous release from Masekela, and the last release from Allen, who sadly passed away a month later.

For this Special Edition, World Circuit have gone back to the original 2010 mixes and added previously unheard parts from the 2019 sessions to create 8 reimagined bonus mixes. The CD and LP releases also feature a booklet with sleeve notes and photos.

Rejoice can be seen as the long overdue confluence of two mighty African musical rivers – a union of two free-flowing souls for whom borders, whether physical or stylistic, are things to pass through or ignore completely. According to Allen, the album deals in "a kind of South African-Nigerian swing-jazz stew", with its roots firmly in Afrobeat. Allen and Masekela are accompanied on the record by a new generation of well-respected jazz musicians including Tom Herbert (Acoustic Ladyland / The Invisible), Joe Armon-Jones (Ezra Collective), Mutale Chashi (Kokoroko) and Steve Williamson.