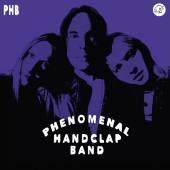 Phenomenal Handclap Band
Phb
Label: Toy Tonics
Genre: Freestyle / Nu Jazz / Funk / Afro
Availability
LP €18.99

Dispatched within 5-10 working days
New York's indie disco funk crew is back with a new album. And it's the right moment: With new acts like Toro Y Moi, Sault, Parcels, The Internet around the funky, disco, old school vibe is big in 2020. And The Phenomenal Handclap Band fits perfectly.

Probably all these new artists are fans of the Phenomenals. Because The PHB popped up for the first time 10 years ago. Some top knotch musicians from NYC's funk scene playing dirty discofunk. Some of the bandmembers played in Mark Ronson's projects and in Amy Winehouse's backing band. Head of the band: Daniel Colla

Their self-titled debut album on Gomma records 2010 made them many fans in the music scene. A nasty fusion of forward-thinking disco, psychedelic prog rock, and classic soul with a splash of yacht rock. Back then the band took the road, supporting Bryan Ferry and Franz Ferdinand, playing shows at Glastonbury, Wireless, and Latitudea as well as getting praise from Sir Paul McCartney about their album!

After the album Collás began to produce other artists in Brooklyn. The band paused. Now they are back. With Daniel Collás in the centre, along with new members multi-instrumentalist Juliet Swango, and vocalist and synthesizer wizard Monika Heidemann. Their sound is still essentially analog dance music, with an emphasis on raw soul, vocal harmonies, African percussion, fuzzy guitars and analog synthesizers.

The new album starts with slow motion disco (Skyline) that makes you feel you driving towards Manhattan coming from Brooklyn (where the band lives). Turning into dirty punk-funk vibes (Remain Silent) the switch to almost Italopop influences (Riot, Do what u like) that remind Rimini, the late 80ies. But the album has also other shades: some almost Zappa-esque moments or house-like drumparts. And, in the end: real hippy disco! (Wichita Gipsy).
Isn't this a great album? Very vintage, very eclectic, very colorful, very handmade, so very now!

The first 2 new singles from the album came last year on Toy Tonics.
They became a favorite of DJs like Harvey, Artwork, Disclosure, Gerd Janson, Busy P, Demujaa
Gilles Peterson voted "Judge Not" one of his favorite tracks of the year.
They had a good start. Now its the right time for the album.