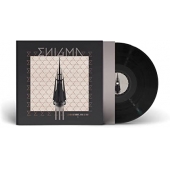 Enigma
Le Roi Est Mort, Vive Le Roi!
Label: Virgin
Genre: World Music
Availability
LP 180gr €26.99

Dispatched within 5-10 working days

The music project Enigma started by mastermind Michael Cretu back in the 90s literally wrote music history: with over 70 million record sales, more than 60 number 1 charts rankings around the globe and over 100 platinum awards it became the biggest German music act of the last 30 years.

With his complex spherical music paired with meditative beats and fascinating vocal samples, Michael Cretu broke new ground for electronic music as such.

The third album from 1996. This album continued Enigma's trend, giving it a slightly more modern, futuristic sound by combining the elements of Enigma's first album, MCMXC a.D., and their second album, The Cross of Changes. Michael Cretu, producer of the project, considered Le Roi Est Mort, Vive Le Roi! to be the child of the previous two albums, with the first being the father and the second being the mother, as indicated by the 19‑second track, Third of its Kind.