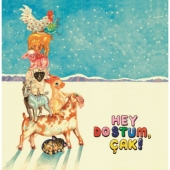 Yildirim Derya / Mushnik Graham
Hey Dostum, Cak!
Label: Buback
Genre: World Music
Derya Yildirim is so many things: A gifted singer, baglama virtuoso, underground star, ambassador of Turkey's rich musical heritage, innovator and preserver of this musical tradition and simply a damn good interpreter. She's got groove, she's just as great with the Anadolu Soul band Grup Simsek as well as with the chamber music Orchestra Ensemble Resonanz. She makes the halls go wild, no matter whether it's at the Elbphilharmonie or a small club. Together with with the French keyboardist and producer Graham Mushnik, Yildirim made a children's album: Hey Dostum, Çak! translates as "Give me five!"

What a great idea! Derya Yildirim, born in Hamburg, Germany, knows many of the songs from her childhood growing up in a Turkish family. Lullabies, folk songs that her father played on the baglama, songs that she sang in Turkish lessons, songs that could be heard on her grandparents' cassettes. Or taught to her by the baglama teacher who taught her and other other Turkish-speaking kids in the neighborhood store in Hamburg-Veddel.