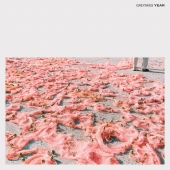 Grey Skies
Year
Label: Fair Weather Friends Records
Genre: Electronica / Ambient / Experimental
Availability
LP + MP3 COUPON €19.99

In Stock
Greek musician Elias Smilios presents his first release as Grey Skies - a project that sets out to create wonderfully bent landscapes of mysterious worlds. YEAR is a fully realised concept throughout its presentation from the music to artwork and video pieces that accompany its release.

Inspired by misty scenes of nature, YEAR creates a transcendental atmosphere that echoes Smilios' escapist tendencies. His musicianship has developed from his involvement in the local indie scene of Thessaloniki in Greece. As Grey Skies the artist transitions into a more blurred and beautiful world of organic ambient, blending electronic and analogue synthesis with his playing of guitar and bass alongside the alto saxophone talent of Thanasis Sampaziotis Macubert. The sax is used with a centering fluidity amongst intricately layered elements lifting intensity along with skittering IDM inspired beat patterns throughout YEAR.

The artwork that frames the release is created by longtime friend and collaborator Smilios' career John Pallis. He has taken the lead of combining visuals of the elements from around the earth with day to day life.

YEAR will be released on Fair Weather Friends, an independent record label based somewhere between London and Thessaloniki. Their focus has always been on music that has the potential to be both relevant and timeless, captured on the only medium that truly embodies the same qualities: vinyl.

Limited edtion of 200 copies.