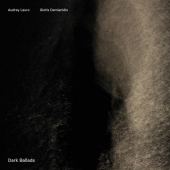 Lauro Audrey / Damianidis Giotis
Dark Ballads
Label: Mr. Nakayasi
Genre: Jazz / Avant Garde
Dark Ballads is the obvious title of this LP, as if this music pre-existed the duo that, without any other choice, was formed around it.

Since then, Giotis Damianidis and Audrey Lauro have continued to advance along this straight line that runs through their inner landscapes.

Their music creates a "stretched" emotional space, which evolves in slow motion and captures the fragility of the tone, the tension of the path.

Each stage of the record is a mineral evocation of the intimate: Obsidienne, Almandin, Béryl Rouge.

The same "intimate" that is the only thing that matters when playing and recording such music. This LP has been recorded as you listen to it, from top till toe, nothing has been changed/added/subtracted.

This is the pure essence of an intimate meeting.

All music by Audrey Lauro & Giotis Damianidis

Recorded in Studio Grez, Brussels, june 2019

Mixed and mastered by Giovanni Di Domenico

Limited edition of 317 copies.