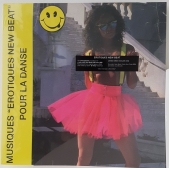 Various Artists
Erotiques New Beat
Label: Musique Pour La Danse
Genre: 80s Wave / Rock / Pop / Punk
Availability
LP €18.99

Dispatched within 5-10 working days
The year is 1989 and it's the peak of the New Beat craze that swept Europe and the world with Belgium at its epicenter. Not limited to records and clubs, the New Beat lifestyle was marketed to death with all sorts of fashion items, a plethora of accessories and...erotic videos.

Erotica, sensuality, and sexuality have always been part of New Beat's DNA, but our jaws still dropped to the floor when we first laid eyes upon an erotic New Beat VHS deadstock gathering dust in a forgotten video store in the middle of nowhere in Switzerland.

So we did what every New Beat fan would have done, we watched the video and cringed (at its low budget production values and tacky male gaze) while we were transported to 1989 Belgium, with the bodies, poses, styles and backdrops you'd expect from that bygone era.

Our ears, however, were in for a treat. The video's OST uses almost the very same tracklist as one of the countless New Beat compilations marketed as LPs: King of the Beat, instantly recognizable among many for its yellow front cover featuring a stamp with King Baudoin's profile.

That record was actually a fake compilation seemingly gathering several artists but in fact, entirely composed by the same trio. It offers a lovely snapshot of various moods and styles found within the New Beat genre: downright erotic tracks, proto-Goa numbers, Orientalist takes on exotic sounds, tracks driven by iconic film samples, and tracks built around silly samples, such as an elephant's trumpet. And then some.

That's when we decided to reissue this compilation. While many New Beat tracks have been played and compiled to death, there are still brilliant records to rescue from oblivion, and this is one of them.

The entire release has been remastered and will be reissued in LP + digital formats. Liner notes are written by Geert Sermon. And the utterly tacky front cover is a detail from the VHS original artwork.

Limited edtion yellow vinyl.