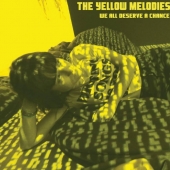 Yellow Melodies
We All Deserve A Chance
Label: Old Bad Habits
Genre: Rock / Pop
THE YELLOW MELODIES are an indiepop band from Murcia (España). They started making music at the end of the 90s. They have released 8 albums, several singles and EPs on different labels (The Beautiful Music -Canada-, Cloudberry -USA-, Edition 59 -Germany-, Cherryade -UK-, Jigsaw -USA-, and the Spanish Jabalina, Bubbletone or Clifford,…) and their songs have been included in many compilations all around the world.

-THE YELLOW MELODIES are: Rafa Skam (voice and guitar); Antonio Clares (bass and backing vocals); Carlos Abrisqueta (keyboards, guitar and backing vocals) and José Ángel (drums).

Limited edition of 180 numbered yellow copies.