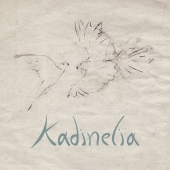 Kadinelia
Kadinelia
Label: Space Between Us Recordings
Genre: World Music
Availability
CD Digi / Cardboard €11.99

In Stock

From Greek tradition to the globe.
That's the music trip that Kadinelia, the World music duo of Thanasis Zikas and Evi Seitanidou, offer.
A trip where the timeless sounds of Greece are transformed into something new through the alluring acoustic guitar melodies and the harmonic singing of the two musicians.

Kadinelia met in 2013, exchanging ideas and experimenting with many sounds. In spring of 2014, they finalized the identity of their music project: the enrichment of Greek music with blues and rock elements.
The duo's fondness of other cultures soon resulted in covers of folk melodies from other countries as well.
Their devotion and flawless performance on stage have opened the door to many venues around Greece, as well as abroad.

In late 2019 they entered the studio.
After a month full of recordings, they completed their first album, named after their project, mixed and mastered by Christos Megas. With this debut album Kadinelia convey the passion that characterizes their live shows in the best way possible.
In it listeners will find a total of eleven tracks, including both original material and covers of traditional sounds, written by Thanasis and Evi. Through the guitars and vocal colors, the duo takes us to a trip where lament gets mixed with humor and where the West meets the East.