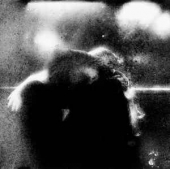 Oiseaux - Tempete
From Somewhere Invisible
Label: Sub Rosa
Genre: Post Rock / Avant Rock
The trio was created in Paris in 2012 by the musically versatile pair Frédéric D. Oberland (guitar) and Stéphane Pigneul (bass) (members of FareWell Poetry and Le Réveil des Tropiques) and percussionist Ben Mc Connell (drummer for bands such as Beach House, Rain Machine, Au Revoir Simone, Marissa Nadler and Winter Family).

The band's creative process is intertwined with that of Stéphane C., French photographer/filmmaker, currently documenting the existential conflicts brought on by the political and economical turmoil in Greece. In light of this encounter, this project quickly became a whole: musical, visual, political. The initiating impetus is urgency.

Originally conceived as a musical and visual, poetic and militant voyage, this first album retraces, in a sonic odyssey, the qualms and queries of a sickly and dysfunctional Western society. Reason first reared its head in Greece, and now it is the seat of a modern maelstrom, unfurling a new set of questions.

Alternating moments of inexorable tension and luminous respite, the Oiseaux-Tempête's debut album LP takes flight and slowly unfolds in an implacable ascension, the rich photographic contributions fleshing out the poetic narrative.

Oiseaux-Tempête's first release, carrying us beyond the stoner, free rock and experimental labels. How can music voice the violence and confusion that fuels discontent and protest? Oiseaux-Tempête offers an answer to this question.

Limited edition colored vinyl.