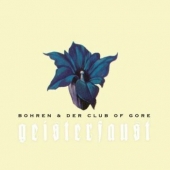 Bohren & Der Club Of Gore
Geisterfaust
Label: Play It Again Sam
Genre: Post Rock / Avant Rock
Availability
CD Digi / Cardboard €18.99

Dispatched within 5-10 working days
The slowest band in the world became even slower with 2005's 'Geisterfaust'.

The 58 minute album contains five songs, each titled after the fingers of a hand (the length of the tracks are proportional to the average length of these fingers).

"The stretches of silence, the resonating chords, the cyclical melodic developments, and the paradoxical atmosphere of tension (what will happen next?) and relaxation (it is, after all, extremely smooth music, no need to be so tense) all point to the Australian trio [The Necks] a thousand times more than anyone on the roster of Ipecac, the label that reissued 'Black Earth' to worldwide attention a year before 'Geisterfaust' came out." - All Music

Digipack CD. Double LP in gatefold sleeve.

'Geisterfaust' is now being made available for the first time on vinyl.