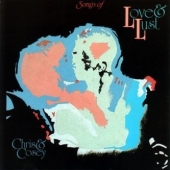 Chris And Cosey
Songs Of Love And Lust
Label: Conspiracy International
Genre: 80s Wave / Rock / Pop / Punk
Songs of Love & Lust was originally released by Rough Trade Records in 1984 and was at the time considered to be quite a departure for both them and Rough Trade. The album contains Chris & Cosey's trademark infectious rhythms, melodic tunes, edgy guitar, wailing cornet and of course Cosey's unique vocals - which give a dark and sensual edge to the production.

"A vice-like turn of the screw that is at once dreamy, hard and compelling. A gathering of all those forces which give electronic music a heart of its own. This is seduction!" Adrian Jones - City

Limits 1984 Archival press quote: "Chris & Cosey's alluring invitation is to try another world: their promise is that the possibilities should be endless." Don Watson - NME 1984

Turquoise vinyl.