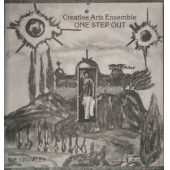 Creative Arts Ensemble
One Step Out
Label: Outernational Sounds
Genre: Jazz / Avant Garde
Availability
LP x2 €33.99

Out of Stock
Another key document of the Los Angeles radical jazz underground, by way of Outernational Sounds.
A tour de force of spiritually energised independent jazz music, this is pianist and composer Kaeef Ruzadun Ali's debut recording as leader of the Creative Arts Ensemble, as it emerged from Horace Tapscott's legendary Pan Afrikan Peoples Arkestra,
PAPA mainstays like reedsman Dadisi Komolafe, drummer Woody 'Sonship' Theus and altoist Gary Bias are here; besides such veterans as Henry 'The Skipper' Franklin on bass, and George Bohannon on trombone. Kaeef's sister B.J. Crowley provides visionary, sanctified singing.
Classic spiritual jazz, available again as an LP for the first time since 1981; with the recordings at full length on vinyl for the first time ever.