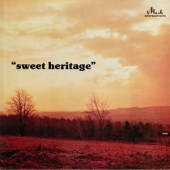 Jaman
Sweet Heritage
Label: Outernational Sounds
Genre: Jazz / Avant Garde
The pianist James Edward Manuel's only release is one of the deepest custom-press jazz recordings of them all.
Jaman studied under greats like Earl Bostic and Horace Parlan. Gigging on the Buffalo club scene, one of his early trios included the renowned bassist John Heard and drummer Clarence Becton, till both were poached one night by a visiting Jon Hendricks. Other sidemen include Sun Ra Arkestra bassist Juini Booth and Ahmad Jamal regular Sabu Adeyola (also of Kamal & The Brothers).
Pressed in tiny quantities by the Mark Records custom service in 1974, and issued with a stock landscape cover, Sweet Heritage presents a soulful mixture of covers and originals. In particular the flying, spiritual sound of Free Will and the upful, Latin-tinged In The Fall Of The Year — both Jaman compositions — have turned the LP into a legendary collector's classic.