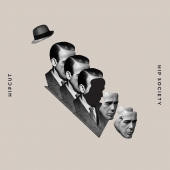 Hipcut
Hip Society
Label: Melting Records
Genre: Freestyle / Nu Jazz / Funk / Afro
Hip Society is the fantastic new album from Hipcut, the Crete-based notorious crate-digger. The young Greek beat-maker — also a member of the audio/visual duo Monisme — has self-released a handful of well-received cuts via Bandcamp and now joins the Melting Records family with his latest work. Hip Society features 10 tracks (with 3 bonus instrumentals) combining flavors of jazzy downtempo, boom-bap breaks, spacey trip hop, and '90s Wu-style hip-hop. It's an audio treasure trove of moods and motion.

Hip Society gives Hipcut an opportunity to combine his multi-layered soundscapes with talented vocalists. American rapper Awon (Don't Sleep Records) displays his deep verbal skills on the exceptional cuts "Red Eyed" and "Torn." Renowned Greek soul-singer Sugahspank sprinkles her moving vocal magic all over "Precision". "No Time" features newcomer Vikkie dropping her smooth flow in a delicious old school style. The collaborations go beyond vocals, as "Sounds In The Night" includes def-defying scratch antics from Athens-based turntablist DJ Moya.

Hip Society is a sonic film noir, complete with torch songs and moods for smokey cafés. The beats swing and the arrangements are cinematic, evoking dark blues and covert activities. "Chase" is like an updated soundtrack to a detective caper from the '30s, and "Sentimental Serenade" could accompany a sultry, grainy black-and-white encounter in the rain. Hipcut delivers the goods, and Hip Society is a sublime mystery waiting to be solved through the speakers.