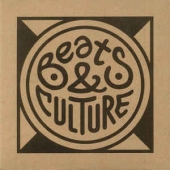 Dj Dsk / Nickodemus & Maharaj Trio
Tom's Thai / Southern Magnolia
Label: Melting Records
Genre: Freestyle / Nu Jazz / Funk / Afro
We're happy to introduce a new series of 7" singles in collaboration with the Beats & Culture YouTube channel. These Beats & Culture 7"s will feature a variety of sounds, from hip-hop to breaks, afrobeat, dub, and a few mashed-up genres in-between. The singles will also be on colored vinyl, with each limited edition having its own color.

Beats & Culture's first 7" opens with a hype cut from DJ DSK, the UK hip-hop DJ legend who is now burning things up across Asia. Known for his incredible scratching technique, DSK drops the remarkable "Tom's Thai". Like DSK, the track is rooted both in hip-hop and Asian influences, as it utilizes catchy samples from Thai music and mixes them with crucial boom-bap beats.

Flip the wax for Brooklyn's man of the Wonderwheel, Nickodemus, and his striking collaboration with the Maharaj Trio. Titled "Southern Magnolia," this cut features the Trio on sarod, sitar, and tablas, all mixed over Nico's beats in an irresistible dance-floor style. "Magnolia" feels like a celebration, both for the boundless possibilities of music and a brilliant launch of the Beats & Culture 7" series. Groove on.