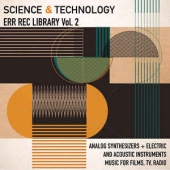 Various Artists
Err Rec Library Vol​. 2 Science & Technology
Label: Err Rec
Genre: Electronica / Ambient / Experimental
"ERR REC Library Vol.2 Science & Technology" features11 french composers. These soustractive synthesis quakers, obsessed by a certain idea of electronic, electro-acoustic, film and library music that one produces by tweaking potentiometers and filtering waveforms. Those few who are able to turn into "chamber multi-instrumentalists" and studio wizards, in order to experiment and create some never-heard-before soundtracks. Imagine such an inspired and meticulously referenced vintage machine gospel that would undoubtedly, and unfortunately, end up on the hard drive of a MacBook. All of the participants followed the French library music tradition, signing their jewels under a pseudonym.

Limited Edition - 200 copies

140g Vinyl including A3 double-side poster with liner notes.