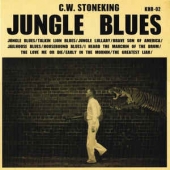 Stoneking C.w.
Jungle Blues - Vinyl Edition
Label: King Hokum
Genre: Rock / Pop
Availability
LP €21.99

Dispatched within 5-10 working days
One afternoon, back in Port of Spain, Trinidad, I met four scientists in a bar, they were on their way to West Africa to study a type of parasitic worm that attacks the eyeballs of human beings and turns them into blind men. That day I was avoiding my calypsonian friends, Methuselah the Great, and King Iere, who, having witnessed an impromptu display of my natural aptitude with a snooker cue a few nights before, had begun a campaign to coax me into the stick fighting competition at the upcoming carnival. That afternoon I passed all my usual haunts and went to one of the more upscale drinking joints in the waterfront district where I got to talking with these four scientists. As it turned out, they were great admirers of the old-time blues and after regaling them with stories about my time as a root doctor's assistant in New Orleans - preparing mojo hands, hoodoo spells, and magic oils - they invited me back to their boat to continue our drinking session and play them some songs on my banjo. If I could have foretold the calamitous disasters that lay in store for me, I'd have gone straight-away, found my two friends, and let them enter me in any stick fighting competition they could find, near or far. Instead, I went with the scientists..... and so, nearly to my doom.

We drank rum 'til late in the night, I sang every old-time blues that I'd ever known, calypsos, and requests. As the sun came up, I christened their boat, 'The Mississippi Song-O', and decided to join them on their journey, across the Atlantic and into West Africa. This is how I ended up with the dreaded Jungle Blues.

C.W. Stoneking
Composer of blues, hokum, and Jungle music.