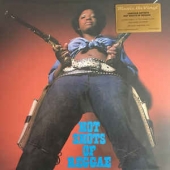 Various Artists
Hot Shots Of Reggae
Label: Music On Vinyl
Genre: Freestyle / Nu Jazz / Funk / Afro
Availability
LP 180gr Audiophile €20.99

Out of Stock
Hot Shots Of Reggae is an recording on which a bunch of popular reggae songs are brought together. The album was originally released in the autumn of 1970 and compiled by the legendary Chinese-Jamaican producer Leslie Kong. He had enjoyed many hits in in Europe and selected some of the true pearls from the reggae music to shine on the album. The album includes the Maytals' hit Monkey Man, the sparkling So Much Love by Joe White and the fine rythms of Ken Boothe's Freedom Street.

The influential producer Leslie Kong once discovered Jimmy Cliff and recorded him on his own record label Beverley's. In 1962 he recorded Bob Marley's first single and through the 60's het became known as the producer of many big artists, like Desmond Dekker and Joe Higgs. He died of a heart attack, at the age of 38, in august 1971.

The album is now available as a limited Edition of 750 individually numbered copies and comes on orange vinyl.