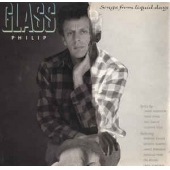 Glass Philip
Songs From Liquid Days
Label: Music On Vinyl
Genre: Jazz / Avant Garde
Availability
LP 180gr Audiophile €23.99

In Stock
Songs from Liquid Days is a collection of songs composed by composer Philip Glass with lyrics by Paul Simon, Suzanne Vega, David Byrne and Laurie Anderson. Glass began the project scoring lyrics by Byrne and then thought to collaborate with additional songwriters.

On the project, Glass said: The words come first. From these I fashioned a set of six songs which, together, form a cycle of themes ranging from reflections on nature to classic romantic settings. After the music was written, I - along with producer Kurt Munkacsi and conductor Michael Riesman - began the long and difficult process of 'casting' singers for the individual songs. We felt that the interpretation a singer brings to a song is an immense contribution to its character - contributing their own personality to the work perhaps more than any other performer.

Songs from Liquid Days has brought together quite an astonishing assortment of people, from the progressive Kronos String Quartet to singers Linda Ronstadt, Doug Perry and Janice Pendarvis and Bernard Fowler. Among them, they cover a fair range of the contemporary music practiced in our time, from experimental to rock to opera. AllMusic wrote that Songs From Liquid Days became Philip Glass' most popular and successful recording, and concluded that Songs From Liquid Days may be his single greatest achievement. This legendary album includes an 8-page booklet with info on the Philip Glass series on MOV, coming in 2020 / 2021.