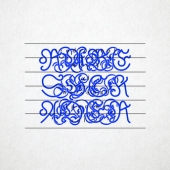 Becker Rashad
Traditional Music Of Notional Species Vol. Ii
Label: Pan
Genre: Electronica / Ambient / Experimental
"After years spent on the mastering side of music, Rashad Becker hooked up with PAN in 2013 for (...) a challenging set of compositions that scratched, screeched and creaked (...). For this second volume, he (...) divides the tracks into two categories – here it's "Chants/Dances" (squelchy synth experimentation) and "Themes" (more drone orientated pieces). The music is every bit as spooky and dissonantas the first volume, stretching the pitches and tones that comprised Vol.1 to more extremes." (Aurora Mitchell in THE WIRE 394)

Incorporating more instrumental-sounding components, the record moves through both fluid and dissonant sounds which take on different structural and sculptural challenges through carefully-layered compositions. Following 'Traditional Music of Notional Species Vol. I', the new album expands in various elements, distorted and warped, focusing in on the tension and energy synthesised sounds that appear to exist hauntingly physical.

Known for his unrivalled attention to sonic detail across his work, Becker's unique techniques and expressive manipulations of sound are laid bare in an exhilarating new form, stylistically distinctive and uncompromising.

The album is mastered and cut by Rashad Becker at D&M, featuring artwork by Bill Kouligas.