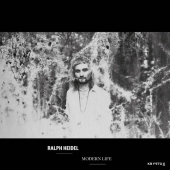 Heidel Ralph
Modern Life
Label: Kryptox
Genre: Electronica / Ambient / Experimental
The great wealth of multifaceted skills is Ralph Heidel's core identity. Evident in the attempt to classify his music into a genre. Drone Jazz, Organic Glitch, Neo Classic, Jazz Tronica, all these terms apply when we read about his music. He began his career as a saxophonist and by now has also become a highly

requested composer and arranger for a wide variety of productions.
The 28-year-old musician was signed by Mathias Modica (Gomma, Toy Tonics) for the Kryptox label, while he was still studying at the Musikhochschule München. Heidel released his debut album "Moments of Resonance" (2019) with his eight-piece ensemble Homo Ludens, followed by his EP "Relief" (2021). This grandiose prelude received applause on an international level. BBC6 presenter Mary Ann Hobbs, decided right away to exclusively feature Ralph Heidel on her radio show.

Renowned theatres such as the Berliner Ensemble, Volkstheater München, Staatstheater Cottbus and the Volksbühne Berlin became aware of Heidel and commissioned him continuously to write compositions.

But that's not all: In only three years Ralph Heidel became a favorite musician to call and play on other musicians albums. From Neo Classic and Ambient artists like Carlos Cipa abd Josin to German Indie acts like Drangsal and All diese Gewalt Ralph Heidel has been featured on many albums.

His wide range of artistic ability and curiosity was also demonstrated by his collaboration with a big star of the German Rap Scene, Tarek (KIZ). Ralph Heidel rearranged the album Golem (Eklat/Warner) for a chamber music ensemble. The Golem Sessions album then, was released in 2020 (Eklat/Warner). Thanks to Heidel's precise work, it has been proven that rap and a chamber music ensemble, ambient and trap can complement each other.

Heidel's name became well- known within the scene which finally made him 2022 the musical director of Casper, one of the most famous rappers in Germany, and his band. The official tour will start in March 2022 under Ralph Heidel's leadership.

However, Ralph Heidel's creative drive seems to be inexhaustible. Which now made him finish his new album "MODERN LIFE". Together with one of the currently most important Indie and Pop producers, Max Rieger, Heidel created his latest masterpiece.

"MODERN LIFE" is the further development of the compositional debut album "Moments of Resonance" and the predominantly electronic EP "Relief". The piano and the string arrangements are back. He uses a vintage piano from the 1960s, which he recorded in his apartment in Berlin. Its distinctive character delivers an outstanding mood to the album. The result is an unmistakable sound that, in combination with his main instrument, the alto saxophone, bears Ralph Heidel's hallmark. As further components he uses small-scale, organic percussion, soft synthesizer surfaces, noisy loops and fragmented vocal samples.
The sound world in which he moves within the 10 tracks is not easy to assign and it should not be. Heidel creates a sphere in which all of his feelings find space. A place where he experiments, but at the same time precisely places themes that describe certain sensations. Heidel manages to illustrate atmospheric images in detail and bring them to life without further naming.

According to Heidel's interpretation, the main goal of his generation is the excessive craving of recognition. Individualism, self-optimization and the unpredictable fear of stagnation that characterizes our society forces us to focus on egocentrism and thus obscure our view of the outside and a possible togetherness.

The opening track "AVI" shows the complexity of a struggle with oneself. The ruthlessness between being rushed, because the goal never seems to be tangible and the upswing you feel when you return to strength and arising possibilities occur. Ralph Heidel finds his inspiration in the destruction, the irritation. "AVI", and many other pieces, count with musical themes which increase to the point of absurdity to then be destroyed or playfully instrumented. It represents the very rift that many of us are well aware of.

The track "THE VOID OF MODERN LIFE", hovers over us like a dark cloud. Heidel presents a long theme reminiscent of Bach's chorales, but played with synthesizers and saxophone. It becomes interwoven, blurred and shattered in the course of the play, to then slide from reality into a feverish dream. But in direct contrast, but also complementary to it, follows "HULO", a life-affirming piece full of comfort and hope.

Other pieces also contradict and complement each other at the same time. The nostalgic, retrospective track "OLD SOUL", which puts an emotional rather sad retrospective on the past, the missed, is followed by the dreamy, visionary vocal track "ADMIRING" feat. PLATEAU GREEN, which gives us a glimpse into a future with brighter prospects.
Other guest musicians included are Hannah Weiss (vocals), Moritz Stahl (ARK NOIR/tenor saxophone), Noah Fürbringer (drums), Teresa Allgaier (violin), Juri Kannheiser (cello) and Julian Klaas (vocals).
Heidel manages to illuminate the changing moods and the intensity of life in his music from different angles. An album that can not just be described with one single feeling. The colors and moods of this album are like Ralph Heidel himself, his music, his richness of facets and his profoundness that runs through all his works. Emotional states can change quickly, especially in unpredictable times like these. In a society dominated by social media, where the Instagram feeds aim to provoke the entire range of our emotional world within a very short time, we need albums like "MODERN LIFE" to balance the overwhelming for us.