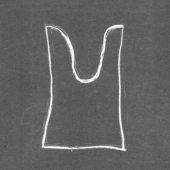 Xylouris White
Black Peak
Label: Bella Union
Genre: World Music
Availability
CD Digi / Cardboard €17.99

Dispatched within 5-10 working days
When Xylouris White recorded their second album, this most intuitive and inquisitive of duos did what comes naturally to them: expanded their horizons. For George Xylouris, the Cretan lute player who partners here with the Dirty Three's preternaturally fluent Australian drummer Jim White, one aim was to extend a core metaphor of their ruggedly visionary debut album, 2014's Goats. "Like goats walking in the mountain" is Xylouris's poetic analogy for their approach: "They may not know the place, but they can walk easily and take risks and feel comfortable. Really, the goats inspired us."

That exploratory pitch is matched by the majestic Black Peak, named after a mountain top in Crete and, says Xylouris, "recorded everywhere". A peak in both artists' careers, the album testifies to their determination to stretch the scope of their instruments and forge something vigorously questing from more traditional roots.

Partly, Black Peak pays testimony to both men's remarkable histories. One of Crete's best-loved artists, Xylouris is a scion of Greek musical royalty, a family from a mountain village near the Cave of Zeus, while Jim White has commanded international attention for more than two decades as part of Australia's Dirty Three. Now New York-based, White is often found collaborating with alt-A-listers such as Bonnie 'Prince' Billy, PJ Harvey, Nina Nastasia, Cat Power and Smog.

The fluidity of their partnership is clear from the rolling explosion of the title-track, where White's thunderous rhythm seems to urge, and be urged along in turn, by Xylouris's chugging lute-rock riff, pirouetting melody and soaring vocal. "Forging" maintains the momentum, Xylouris's thrashing, thrilling lute melody circling the rock of White's pulsing drum. Elsewhere, Xylouris White re-write their route map. "Hey, Musicians" is rich and sonorous. The skin-tingling crawl of "Erotokritos (Opening)" draws on romantic renaissance verse; "Short Rhapsody" is a joyous jam of slashing laouto and coiled percussion; "Pretty Kondilies" is dancing and declamatory. Finally, "The Feast" sprawls gorgeously between tradition and invention, its sombre, sighing spaces shared with guest star Psarandonis's stunning lyra and voice.
It took until 2013 for Xylouris and White to form as a duo, a process accelerated when White played with Xylouris at a Nick Cave-curated All Tomorrow's Parties festival in Australia. Just as other parties helped unite them, so the path to Black Peak was trod with support. The producer is Fugazi's Guy Picciotto, as on Goats; the ghostly harmonies on "Erotokritos" come from Bonnie 'Prince' Billy. "All these things together, Jim from Australia, me from Crete, Bonnie 'Prince' Billy from Kentucky, Psarandonis from Crete, Guy Picciotto from Washington give us the inspiration of the horizon," says Xylouris. "Jim and I travel a great deal and we like to do so. We have been doing that together the past three years, which is what inspired us to think of the horizon."