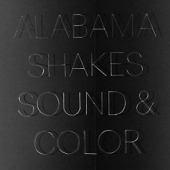 Alabama Shakes
Sound & Color
Label: Rough Trade
Genre: Rock / Pop
Availability
CD Digi / Cardboard €13.99

Dispatched within 5-10 working days
'Sound & Color' demonstrates the tremendous strides made by a group of twenty-something musicians who had only been playing together for a few months when they recorded their first album. From the gently swaying, chiming title song to the garage-rock freak-out on "The Greatest" to the psychedelic space jam "Gemini," 'Sound & Color' builds on Alabama Shakes' soulful blues-rock base and maps a surprising, innovative new direction.
"We took our time to write this record, and I'm really glad we did," says lead singer/guitarist Brittany Howard. "We were able to sit down and think about what's exciting to us. This record is full of genre-bending songs."
'Sound & Color' was recorded at Nashville's Sound Emporium studio. The band co-produced the album with Blake Mills—a young guitar wizard who has played alongside Lana Del Ray.