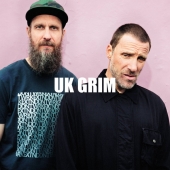 Sleaford Mods
Uk Grim
Label: Rough Trade
Genre: Rock / Pop
Availability
LP €30.99

Dispatched within 5-10 working days
As the Nottingham duo's most dancefloor friendly release to date, UK GRIM is an urgent and sage-like look at life, living and the gritty reality of our era.

The video for lead track 'UK GRIM' is directed by British Collage Artist and Satirist Cold War Steve, who has created a series of original savage yet satirical artworks for the collaboration. This is his debut music video and debut animation having previously illustrated covers for Time Magazine & The New Statesman.

Truly the sound of now, not only in terms of the ideas and issues Jason Williamson's strong words invoke, but also thanks to the innovative and immersive production of Andrew Fearn, which on this release has seen the pair collaborate on songs with Jane's Addiction's creative powerhouse, Perry Farrell and Dave Navarro, and with Florence Shaw, the distinct and vital voice at the heart of British band Dry Cleaning.

Speaking of the forces that have triggered the poetic protest at the heart of this record, as with their musical forebears like The Clash or The Jam, Sleaford Mods reveal that the outrage they feel is underscored by love for the people and places around them, making 'UK GRIM' as much a celebration of individuals and the idealists as it is an attack on ruling classes who pursue their own self-serving agendas with increasing desperation.

"Maybe we are proud of the country. Maybe we are proud to be English," explains Williamson. "Maybe I'm proud of the horrible grey streets and the shit weather and the stupid fashions I find myself investing in. It's just that the English we're proud of being is absolutely nothing like the English the authorities want to try and promote."

Angry yet artful, innovative yet possessing an instinctual energy that irresistibly moves bodies and minds, 'UK GRIM' is an erudite electronic vision that truly engages with times that have been anything but 'precedented'.